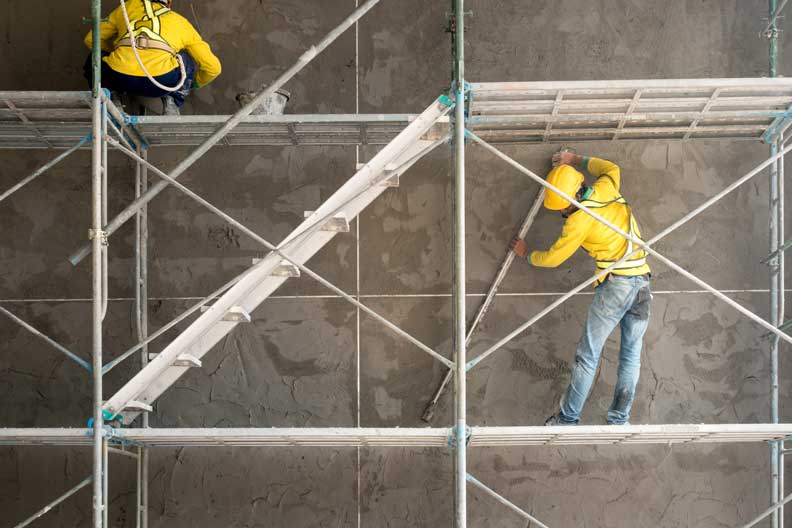 The Importance of Using Qualified Scaffolder
A scaffold is a temporary structure used on construction sites to support and stabilise the access and working platforms which enable construction workers to carry out their tasks efficiently and safely. Due to the important role that scaffolding plays in enabling workers to access all areas, work efficiently and stay safe on site, using qualified scaffolders is essential on all construction projects.
As the leading provider of domestic, commercial and industrial scaffolding solutions across Tasmania, Tas Scaff has an expert team of 20 qualified and licenced scaffolders based at our Hobart and Launceston branches. We've delivered scaffolding systems of all sizes, with no project too big or too small for our scaffolding specialists to manage. Here are a few reasons why it's important to use qualified scaffolders on all construction projects.
Risk Management
A major aspect of implementing a scaffolding solution on a construction site is risk management. Scaffolding is more than a platform that provides access to areas of a construction site inaccessible from the ground floor, it's also a highly complex safety system that enables construction workers to operate safely at heights. Before scaffolding work gets underway, scaffolders follow a systematic risk assessment process which involves:
Identifying potential hazards around the site to find out what could potentially go wrong and cause harm

Assessing the risks identified to understand the nature of the harm each hazard could potentially cause, how serious it could be and the chance of it occurring

Controlling risks which have been determined to be a hazard by implementing the most effective control measures

Systematically reviewing implemented control measures to ensure they're working effectively
By using qualified scaffolders, you can rest assured that a systematic risk management process has been implemented which protects the health and wellbeing of everyone on site.
Designing the Right Scaffold
Choosing the right scaffolding equipment and designing the scaffold is a complicated process that requires training and experience. Not only must the right components be used, but the scaffold must be designed to manage the risks identified while providing workers with a stable, supportive platform that enables them to access hard-to-reach areas and work efficiently at all times.
Qualified scaffolders have the required WHS training which enables them to control risks through good scaffolding design that addresses both the risks identified and best working practices. When a scaffolder designs a scaffolding system, they consider:
How the scaffolding is intended for use

The hazards and risks for those erecting and dismantling the scaffold

The hazards and risks for those working on or near the scaffold

The hazards and risks for people off-site (passersby, passing traffic, etc.)

The most suitable braces, ties, anchors, containment sheeting and edge protection to use

Any supporting structures which may be leveraged to strengthen the scaffolding

The load-bearing capacity of the ground surface and foundations, including the condition of the ground

The weight of live loads (workers, plant equipment, etc.), dead loads (weight of scaffolding equipment) and environmental loads (wind or rain loads, etc.)

Safe entry and exit points
These are all important considerations, with each providing an additional reason to use qualified scaffolders with a relevant scaffolding high-risk work licence. To provide scaffolding solutions for all domestic, commercial and industrial construction projects, Tas Scaff's experienced scaffolders are fully qualified and licenced, ensuring we get the job done safely, reliably and on time, every time.
Ready to speak with a qualified scaffolder about your project? Call Tas Scaff on (03) 6330 3622.